Happily delivering smiles and much more...
3.5 Lakhs +
Happy customers
5,000 + Crores
Worth of loan amount
Why Chola One ?
100% Online Application
A completely online approval process
Instant Approval
We disburse upto 3L loan directly in your bank account, hassel free
Immediate Bank Transfer
Get instant loan disbursement to your selected bank account
Simple Application Process
Get your loan hassle free in 4 step process
Eligibility
Check your loan eligibility
KYC
Complete your KYC process
Pre Sanction
Follow steps to complete the pre sanction process
Post Sanction
Get your loan credited in your bank account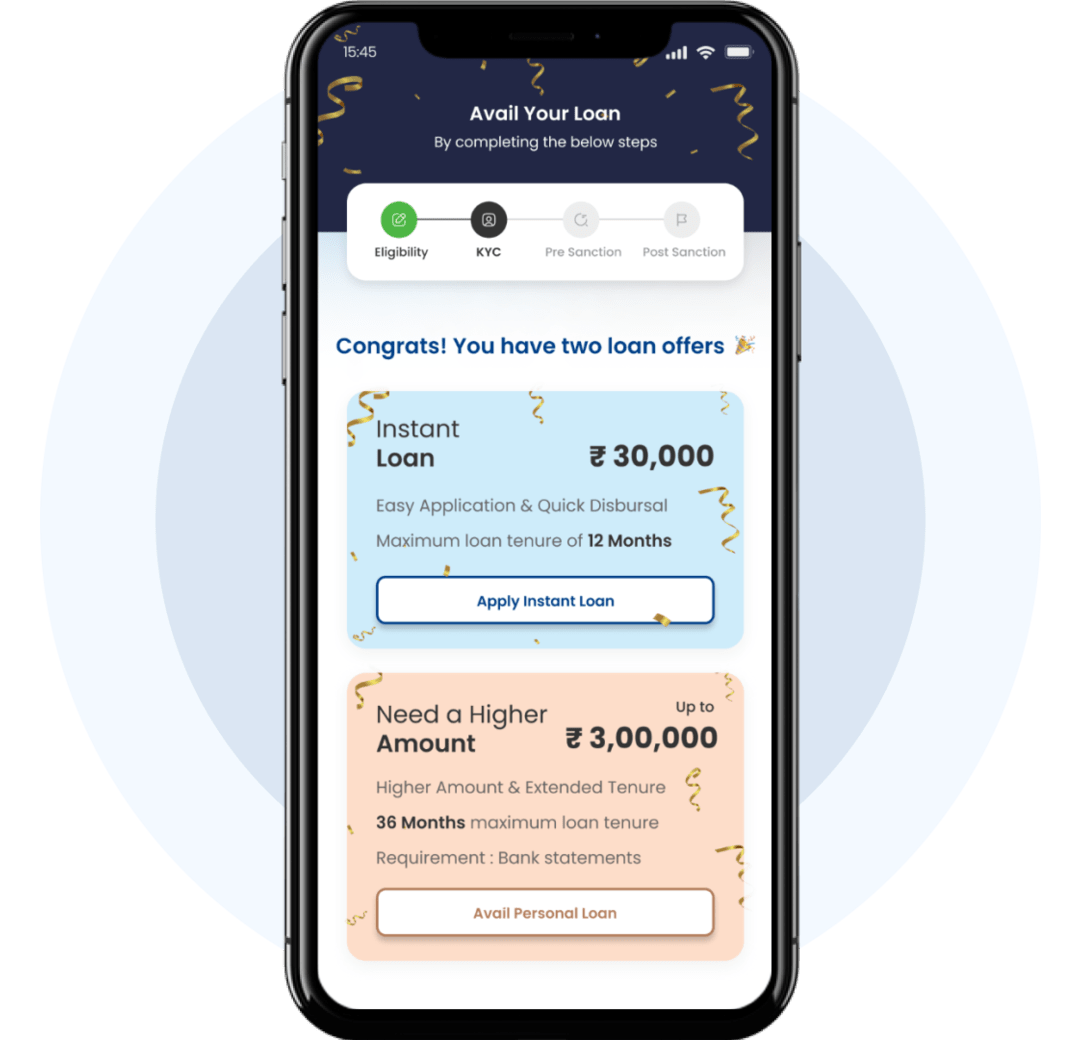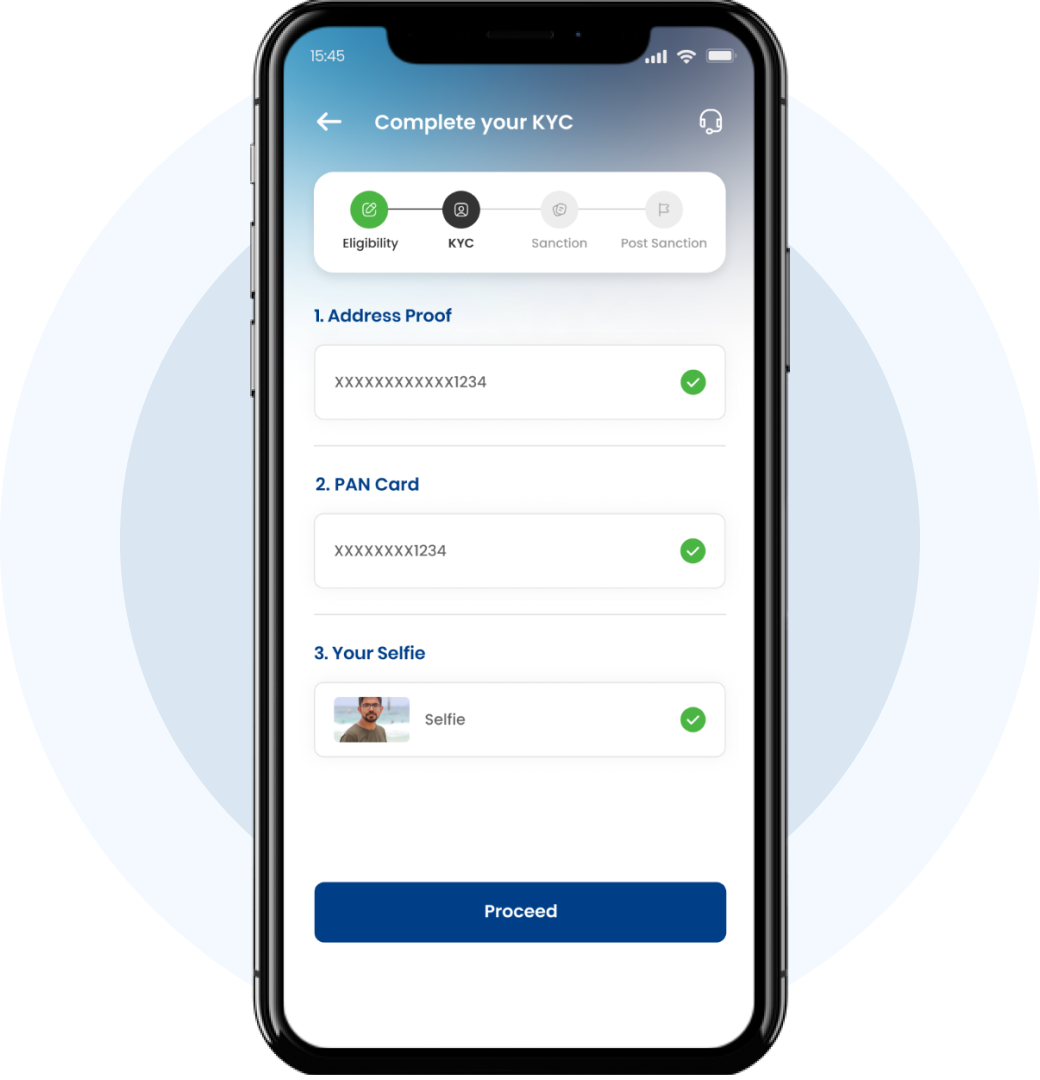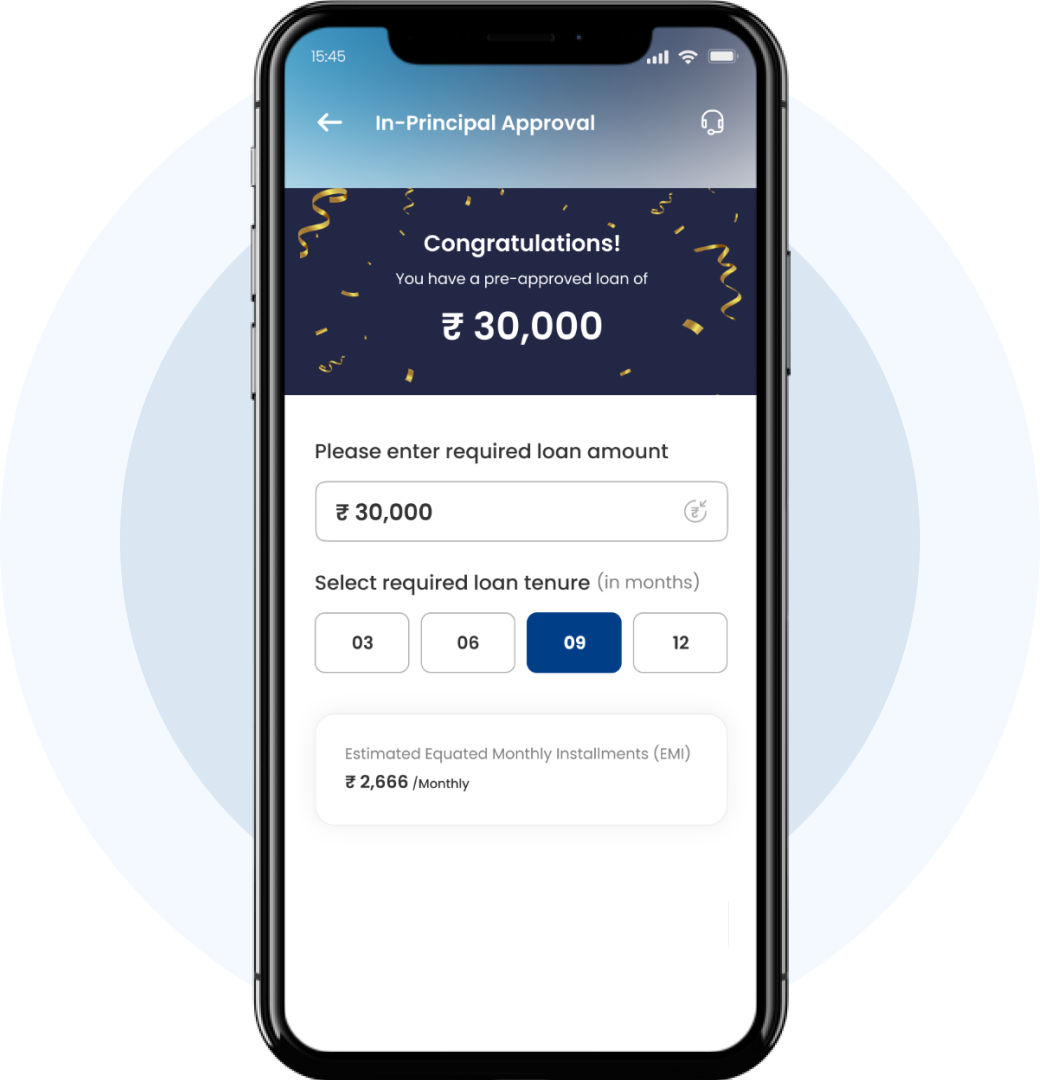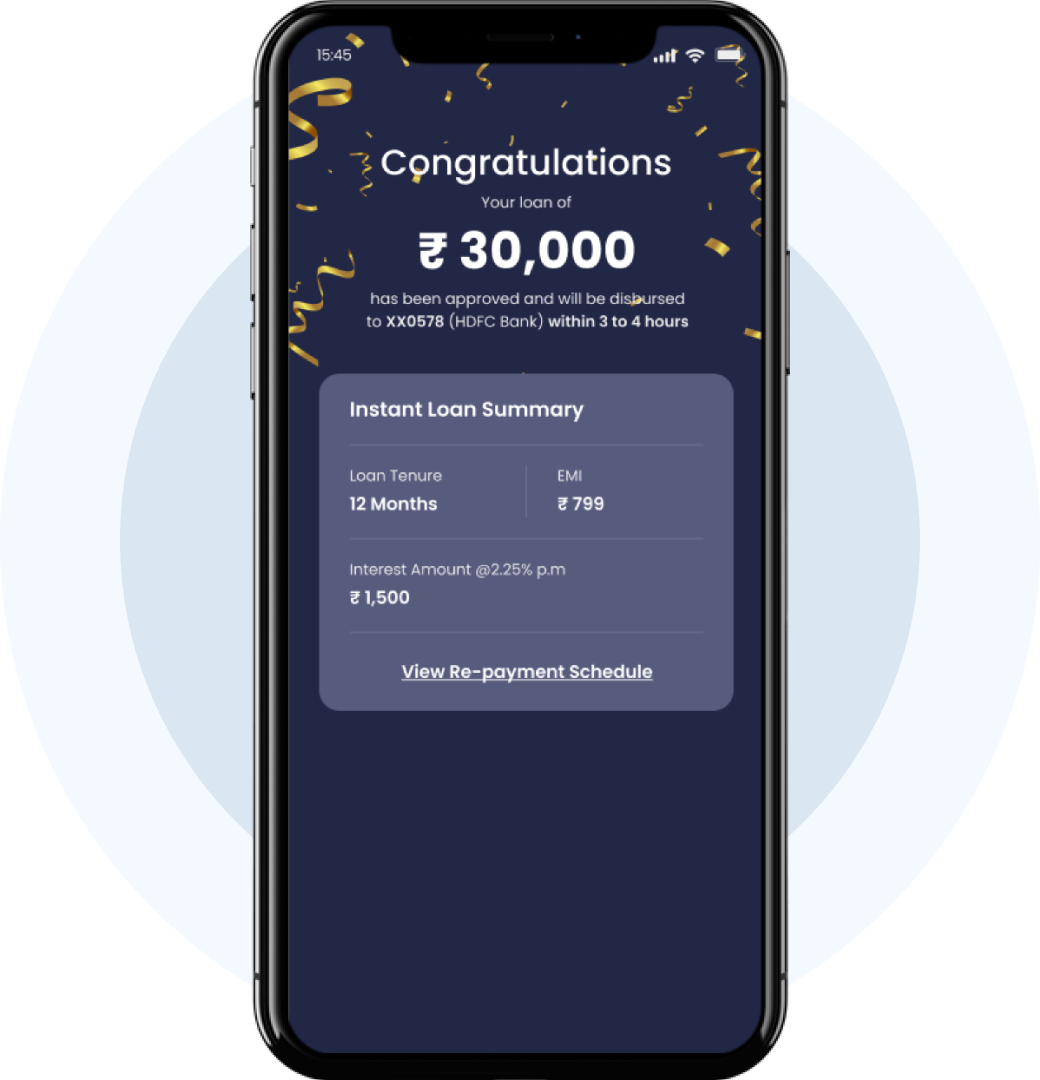 Documents and Eligibility
Monthly income above ₹10,000
| | Salaried | Professionals | Self- Employed |
| --- | --- | --- | --- |
| PAN Card | | | |
| Aadhaar Card | | | |
| Bank Account Details | | | |
| Registration Information/Proof of education | | | |
| Proof of Business (GST / ITRs / IEC / FSSAI) | | | |
Not sure yet?
Check estimated EMI
Estimated Equated Monthly Installments (EMI):
₹
Interest Amount (2.25% p.m)
At Annualised Interest Rate (14% p.a)
Frequently Asked Questions
Chola One is a loan app developed and owned by Cholamandalam Investment and Finance Company Limited (Chola) where you can apply for instant personal loans ranging up to ₹ 3 Lakhs. The loan process is 100% online. Chola One processes your personal loan application with very minimal documentation, the entire process taking less than 15 minutes. Your loan eligibility is completely based on your CIBIL score.
To begin with, install the Chola One App from the Play Store.
Register with your mobile number.
Set your Mobile Banking Personal Identification Number (MPIN).
Click on apply now.
Enter your basic details and submit.
Click on avail personal loan.
Upload your Aadhaar card, PAN card and photo. You can also use DigiLocker.
Enter your address, email ID, employment details and click on proceed.
Enter your loan amount and tenure.
Provide a reference name and mobile number and submit your application.
After your loan amount is approved, enter your bank details and accept & submit the loan terms.
Within 24 hours, your loan amount will be disbursed to your bank account
Chola One offers quick and easy personal loans online.
Yes, Chola is approved by RBI. We strictly adhere to RBI guidelines throughout the loan process.
Taking a personal loan offline is a time-consuming process and requires a lot of documentation. With Chola One, the personal loan process is completely online and will not take more than 15 minutes.
Instant Loan Approval
100% Online Process
No Physical Documents required
Collateral-Free Loans
Immediate Bank Transfer
Yes, Chola One is a very safe app. Your data is safe and secure with Chola One. We ensure data privacy for all our customers as per our privacy policy.
No, Chola One is not a credit card based app; it is an EMI-based loan app.
Yes, Chola One serves customers across India. We feel privileged to serve every Indian citizen.
Applying for a loan from Chola One is a completely online process. Install the app and get started.
The mandatory documents are PAN card, Aadhaar card and 6 months bank statement. You can also use DigiLocker to upload the documents.
No, Google account or email ID not mandatory to avail a loan through Chola One app.
You can complete your loan application process and get your loan amount credited to your bank account within few hours.
Self-employed, salaried professionals and sole proprietor business owners are eligible for a loan with Chola One.
Select OTHERS option and move on.
Please note that your minimum salary amount must be ₹15,000 to avail loan from Chola One.
The approved loan amount will be disbursed to your bank account provided in the loan application.
No, loan amount cannot be disbursed to joint bank accounts. Loan amount can be disbursed to either or survivor bank account if the customer is the primary account holder.
Aadhaar-linked mobile number is mandatory for user verification.
No, you cannot apply for a loan without an Aadhaar-linked mobile number. It helps us to verify the user's identity easily.
You can view the loans documents in Chola One app.
If Chola One app shuts down or stops in the middle of your loan application, please resume your loan application after some time. Also check whether your phone has free space.
No, only Indian citizens can avail loans from Chola One app.
Yes, you can re-apply for loan after Three months.
Loan disbursement can take more than 24 hours in some cases. Please contact our customer care through Chola One app.
Your bank statements help us to verify your financials before approving your loan application and provides you with suitable offers.
Any Indian citizen between 23-55 years of age can apply for a loan through Chola One app. The age limit extends to 65 years for our existing customers. Terms and conditions apply.
No, you can apply for the second loan, only after your first loan tenure ends
Click here to download Chola One app and check your loan offers.
DigiLocker, an initiative of Digital India program, provides a free cloud account to every Aadhaar card holder to access documents like driving license, vehicle registration, academic mark sheet, etc. in digital format.
Since it is a 100% digital journey & Digi locker is a safe and Government approved application.
Yes, DigiLocker helps you to get your loan approved faster.
A step-by-step guide to upload documents on DigiLocker: 1) Download DigiLocker app and login. 2) Click on Upload Document. 3) Select the document to upload from your local drive. 4) Choose the document type & click on save.
eNACH (Electronic National Automated Clearing House) facilitates electronic transfers. Complete one-time authentication for registration with your Net Banking details or debit card to make convenient electronic payments.
Autopay option allows users to make recurring transactions automatically through UPI apps.
Auto pay UPI can be used when your EMI amount is less than or equal to Rs. 15,000.
Enter your mobile number correctly. If your login issue persists, please reach-out to our customer support.
Please contact customer care within the Chola One app.
Contact customer care within the app or visit any nearest Chola branch to get support.
Please check if you have entered your mobile number correctly. Clear your SMS inbox, if it is full. Then, click on resend OTP button.
Please wait for 60 seconds after keying in your correct mobile number and the resend option will be enabled.
Credit score or CIBIL is a score that indicates the creditworthiness of an individual. The CIBIL score is based on the credit report sourced from credit bureaus.
Yes, with customer's consent, Chola One checks credit score to evaluate the loan eligibility of each customer.
Credit limit is the maximum loan amount eligibility calculated based on a customer's financial profile.
Credit limit is based on a customer's credit score, income and on-time debt repayment history.
Any customer whose repayment of loans is regular without any bounce or delay will have a good credit score and credit limit.
Yes, if a customer is making repayments on time, then there will be a positive impact on credit score. Otherwise, there will be an inverse effect on the credit score & limit